Overview – Issues and debates in psychology
This topic looks at the following issues within psychology:
This topic also looks at the following debates within psychology (and applies them to other areas of the psychology a level course):
The different approaches in psychology often come down on one side or the other in each of these debates. For example, the humanistic approach believes in free will whereas the biological approach is highly deterministic. These debates also feed into the other issues and options topics that follow.
---
Gender and culture in psychology
---
Gender bias
Gender bias within psychology may lead to false conclusions about men and women. This can happen in two directions:
Alpha bias: When a theory exaggerates differences between genders
Beta bias: When a theory ignores differences between genders

E.g. Early research into the effects of stress in humans characterised the behavioural response as fight or flight. However, this research was based solely on male animals and assumed these behavioural responses were the same across genders. However, later research from Taylor et al (2000) looked at female responses to stress and found their behaviour in response to stress followed a pattern better characterised as tend and befriend than fight or flight.
Beta bias within psychology can lead to androcentrism: A perspective where male psychology and behaviours are viewed as the default and normal. For example, in the stress example above, female tend and befriend behaviours could be viewed as abnormal because they deviate from typical male (fight or flight) behaviours. However, such behaviours are only abnormal from an androcentric perspective – when studies take account of differences between genders the tend and befriend behaviours are seen as normal.
Cultural bias
Psychology aims to find universal truths about human behaviour. However, cultural bias often means the findings of a study only apply to the culture they were conducted in.
Cultural bias within psychology can lead to ethnocentrism: A perspective where the behaviours of a certain ethnicity or culture are seen as the default and normal. As such, any behaviour that deviates from the norms of that culture may be seen as abnormal.
For example, Ainsworth's studies of infant attachment only looked at American infants and concluded that secure attachment styles are most psychologically healthy. From this perspective, child-rearing practices in other countries may be seen as unhealthy or abnormal rather than simply different. For example, the American perspective might see German parents as cold and rejecting. But from the German perspective, American parents may seem overly coddling, preventing the child from becoming independent.
Psychological research can avoid cultural bias by being conscious of cultural relativism, i.e. differences between cultures.
AO3 evaluation points: Gender and cultural bias
---
Ethical issues
---
Psychological studies often face ethical issues. Ethical issues in the design of the study itself are covered in the research methods section. However, a psychological study and its findings may have ethical implications that go beyond the participants directly involved to affect society more generally – particularly if the research is socially sensitive.
Socially sensitive research
Socially sensitive research is research that has ethical implications for people beyond the researchers and participants directly involved. Examples of this include:
Social groups: Research into certain groups (e.g. ethnic, religious, gender, sexual orientation) may have negative consequences for those groups.

E.g. A study that found differences in skills between genders could bias company hiring practices.

The participants' friends and families: Research can have consequences for people related to participants in a study.

E.g. A participant in a study finds out they have genes associated with depression, which may lead their children to wonder if they have inherited the depression genes.

The researchers' institution: Some studies can bring negative attention to the researchers' institution.

E.g. A study into differences between ethnic groups may attract negative attention towards the institution it was conducted from the media and civil rights groups.
Sieber and Stanley (1988) outlines various ethical concerns that researchers should consider before conducting socially sensitive research. These include:
Implications: What harmful effects could the study have on society? For example, could it be used to legitimise discrimination (e.g. Raine)?
Public policy: Psychological studies could be used by governments to support or inform policies (e.g. Burt (1955)).
Validity: Are the study's results accurate? There are many cases where research findings have turned out to be inaccurate or fraudulent (e.g. Burt (1955)).
Researchers must weigh up these concerns against the potential benefits. In some cases, psychologists argue that even if a study causes harm it should still be conducted because the knowledge gained is so valuable (e.g. Milgram).
The following are examples of socially sensitive research studies and ethical implications:
| | | |
| --- | --- | --- |
| Study | Description | Ethical implications |
| Burt (1955) | Research supporting a genetic basis of intelligence. | Burt's research led to the 11+ exam in the UK, which tested for 'natural' intelligence. This exam would determine whether a child went to grammar school or not, which greatly affected the child's life opportunities. Later, it emerged that some data in Burt's study was made up, but the 11+ exam remained. |
| Raine (1996) and Raine et al (1997) | Brain scans suggesting antisocial, violent, and murderous people have particular brain structures. | Raine suggested brain scans in childhood could be used to identify potentially violent criminals of the future. This policy, if enacted, could potentially reduce crime but would also likely lead to discrimination against people with these brain structures. |
| Milgram's experiments | Research into the effects of authority on obedience. | Milgram's experiments deceived participants and caused psychological distress. Although this may be seen as unethical, some argue that the value of the knowledge resulting from these experiments outweighs the harm done to the participants. |
AO3 evaluation points: Socially sensitive research
---
Free will vs. determinism
---
Free will
There are differing opinions within psychology on the question of whether humans have free will – i.e., whether humans are able to freely choose their behaviours. The opposite of free will is determinism, which says that human behaviours are caused by physical processes and that these physical processes cannot be overruled.
Humanistic psychology, for example, believes humans do have free will. While physical factors – e.g. genetics and environment – influence our behaviours, humanistic psychologists believe humans are able to transcend these physical factors and make free choices.
Determinism
Determinism is the rejection of free will. There are various different forms of determinism, including:
Hard vs. soft determinism
Hard determinism: Human behaviour is entirely caused by physical processes that are beyond our control. So, free choices are impossible.
Soft determinism: Human behaviour is largely determined by physical processes (e.g. biology, upbringing, etc.) but humans are able to overrule these processes and exert their free will in some circumstances.
Biological determinism
Biological determinism (i.e. the biological approach) is the view that behaviours are determined by biological processes. Examples of such biological processes include:
Environmental determinism
Environmental determinism (i.e. the behaviourist approach) is the view that behaviours are determined by conditioning from our environment. Examples of such conditioning include:
Positive reinforcements: E.g. getting given sweets as a child in exchange for good behaviour, getting a pay rise at work for putting in long hours.
Punishment: E.g. getting told off by your parents for fighting with your brother, getting told off by your boss for being late for work.
Psychic determinism
Psychic determinism (i.e. the psychodynamic approach) is the view that behaviours are governed by unconscious desires and conflicts. Examples include:
Freud would say an unresolved oedipus complex in childhood can cause aggressive behaviour as an adult man.
Freudian slips – e.g. calling your girlfriend 'Mum' – are not simply accidents, but expressions of the unconscious mind.
AO3 evaluation points: Free will vs. determinism
---
Nature vs. nurture
---
The nature vs. nurture debate is about how much our behaviour is determined by genetics/biology and how much is determined by environment.
Nature (heredity)
At one extreme, nativists believe our behaviour is pre-determined by nature. Nativists believe our behaviour is explained by heredity – i.e. inherited biological characteristics such as genetics.
Twin studies provide a way to assess the heritability of behaviour. Monozygotic twins have identical genetics and so, if nativism was 100% correct, you would expect them to behave identically too. However, monozygotic twins often have different personalities and preferences, suggesting environment plays a role in behaviour too.
The heritability coefficient is a way to quantify the extent to which a characteristic is determined by genetics. A heritability coefficient of 1 means the characteristic is 100% genetic, whereas 0 means the characteristic has nothing to do with genetics. The following are examples of studies to determine the heritability coefficient of various psychological traits and disorders:
The biological approach to psychology can be said to support the nature side of the debate. For example, the studies above suggest genetics play an important role in various behaviours and psychological traits.
Nurture (environment)
At the other extreme, empiricists believe humans are born as blank slates with no innate nature. So, because humans don't come with any pre-programmed traits or nature, any behaviour must be learned from the environment.
The learning approach to psychology leans towards the nurture side of the debate. Skinner, for example, explained behaviours as a result of operant conditioning and so different conditioning leads to different behaviour (regardless of genetics). For example, if someone who learned to do their homework because of positive reinforcement did not receive that positive reinforcement, then they would have behaved differently (i.e. not done their homework).
Interactionism
The interactionist approach lies somewhere between the two: Our genetic nature predisposes us towards some behaviours more than others, but how these genes are expressed is often dependent on environment. This goes back to the difference between genotype and phenotype.
There are several examples of this elsewhere in the course. For example, OCD has a strong genetic component but not everyone with these genes goes on to develop OCD. For example, some people may take drugs that suppress OCD symptoms, others may overcome OCD with cognitive behavioural therapy, and some people with a genetic disposition towards OCD may simply never experience events that trigger OCD symptoms. And although twin studies support the existence of a genetic component to OCD, the heritability coefficient is less than 0.7; there are many instances where just one twin develops OCD but not the other.
One mechanism through which environment interacts with genetics is epigenetics. Lifestyle choices (e.g. smoking) and environmental effects (e.g. living in an area with air pollution) 'switch on' certain genes and 'switch off' others. Although epigenetic effects do not alter a person's DNA sequence itself, there is some evidence they can alter the genes they pass on to their children.
AO3 evaluation points: Nature vs. nurture
---
Reductionism vs. holism
---
The holism vs. reductionism debate is about levels of explanation: Whether psychology should seek to understand a person's behaviour as a whole or whether behaviours can be broken down and explained in terms of smaller parts.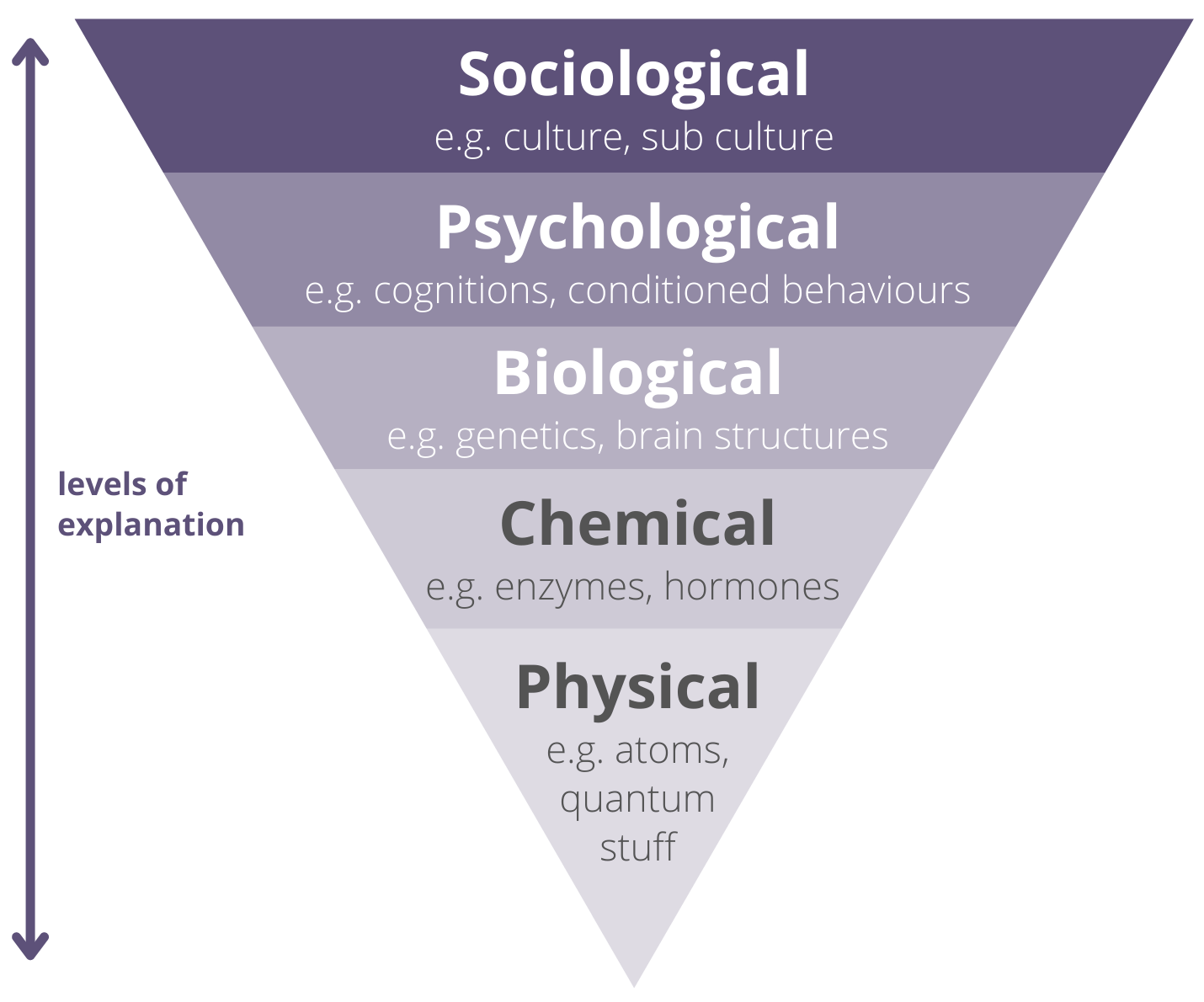 The same phenomena can be explained at different levels. For example, the phenomena of depression:
Depression can be explained at a psychological level, such as sustained negative thoughts and low mood.
But these thoughts and emotions can also be explained biologically, by referring to things like neurons firing and neurotransmitters binding to receptors (e.g. low serotonin).
Explanatory levels can go even lower, though, such as by breaking down your description of neurons and neurotransmitters into basic physical components such as atoms.
Holism sees multiple levels of explanation as valuable whereas reductionism thinks psychological phenomena can be entirely explained (without losing any valuable details) using just one of these levels of explanation.
Reductionism
Extreme reductionist explanations break behaviours down into a single cause. An example of a reductionist explanation would be something like: Depression is caused by low serotonin.
The biological approach to psychology leans heavily towards reductionism (biological reductionism). For example, a proponent of this approach might argue that behaviour can be explained entirely in terms of physical/biological causes without reference to higher levels of explanation, such as a person's upbringing or cognitions.
Similarly, the behaviourist approach can be reductionist (environmental reductionism). For example, an extreme behaviourist might explain behaviour solely in terms of conditioning without reference to lower levels of explanation such as the underlying biology.
Holism
Holistic approaches look at the person as a whole to explain their behaviour. For example, a holistic explanation of depression will consider the person's genetics and biology but also their experiences, upbringing, and the general social context and culture in which they live. Advocates of holism believe human behaviour is too complex to be fully explained from one level of explanation and that "the whole is greater than the sum of its parts".

The humanistic approach is arguably the most holistic approach to psychology. It treats every person as a unique individual that cannot be reduced to general explanations. The humanistic approach to psychological treatment is similarly holistic: It seeks to address and improve all aspects of the person.
AO3 evaluation points: Holism vs. reductionism
---
Nomothetic vs. idiographic
---
The nomothetic vs. idiographic debate is about whether the best approach to psychology is to look at similarities between humans or the differences that make them unique.
Nomothetic approach
The nomothetic approach ('nomos' = 'law') to psychology seeks to identify general laws of human behaviour by looking at similarities between people and groups of people.
Classifications are a form of nomothetic generalisation. For example, the American Psychiatric Association's Diagnostic and Statistical Manual of Mental Disorders provides ways to categorise people as having mental disorders such as depression, anxiety, personality disorders, etc. Similarly, several nomothetic ways to categorise personality types exist such as the five-factor model of personality, the Myers-Briggs type indicator, and astrological star signs.
Principles are another form of nomothetic generalisation. For example, behaviourism describes general laws through which behaviours are conditioned, such as operant and classical conditioning. Similarly, cognitive approaches try to develop theoretical models that explain human behaviour.
Characteristics of the nomothetic approach:
Idiographic approach
The idiographic approach ('idios' = 'distinct self') seeks to understand the individual as a unique being without comparing them to others. The idiographic approach believes that the uniqueness of each person means it is difficult/impossible to identify general laws that apply across populations.
Characteristics of the idiographic approach:
AO3 evaluation points: Idiographic vs. nomothetic
---
or:
or: