Shop
Educational resources to help students – and teachers – get the most from the AQA Psychology A level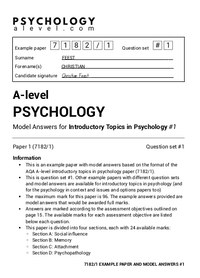 Exam!
The revision guide that covers course content and evaluation points in a simple and straightforward way.
Mock papers with realistic questions that could come up in the exam.
A* model answers to realistic practice questions that would be awarded full marks.
Fully up-to-date for the 2023 and 2024 exam season.
---
Free UK delivery on orders over £15!
---
Showing all 6 results