Description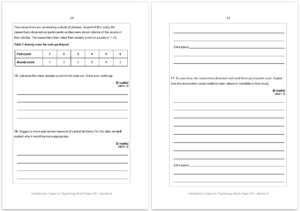 5 full mock exam papers based on the format of the AQA Introductory Topics in Psychology exam paper (7182/1).
These are downloadable PDF files with lined spaces beneath each question where students can write their answers, enabling teachers to print off as many copies as needed to create a realistic mock exam for psychology students.
Each of the 5 mock papers features a unique mix of question formats that includes extended response, multiple choice, and mathematical questions. The questions have been chosen to provide representative coverage of each of the 3 assessment objectives: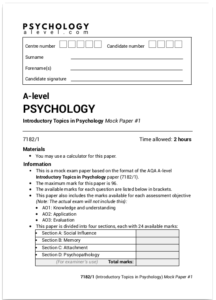 AO1: Knowledge and understanding
AO2: Application
AO3: Evaluation
These Introductory Topics in Psychology (7182/1) mock papers include comprehensive and balanced coverage of syllabus content for:
Social Influence (24 marks)

Memory (24 marks)
Attachment (24 marks)
and Psychopathology (24 marks)
Each paper has a total of 96 marks available. The suggested time set to complete each paper is 2 hours.
After completing your purchase, a download link will be sent to the email address used at checkout. If you cannot see this email, please check your spam folder or refer to our order FAQ.